Living in a touristy area, I normally stay firmly at home over a bank holiday weekend. However, I needed a day or two out and there was a delivery I could profitably make so off I went.
The delivery was to a chap in Peterborough. Of course, it would have been much cheaper to send the goods by courier, but then I'd still be stuck indoors.
I got my kit together and left home on Thursday evening driving to a lay-by in Leicestershire before stopping for the night. It was a bit chilly, but I had a good nights kip only to be woken by the snack van owner setting up the following morning. It's not often I can step out of my bedroom to a cooked breakfast and since he'd gone to the trouble it seemed rude not to have an egg and bacon roll and a mug of tea.
I carried on along the A5 then on to the A4303, past Lutterworth, over the M1 and on to Market Harborough. A friend of mine lives near there, so again it seemed rude not to call in and pester him for a brew, at half-past-eight in the morning.
I met up with the chap in Peterborough and we exchanged goods and cash. Job done, now on holiday. I'd made no plans, so nothing could go wrong.
My next stop was in Wisbech, Cambridgeshire. I last visited about thirty years ago and wanted to have another look and take a "now" photo to go with the "then". The fact that the local brewery, Elgoods, brews some brilliant beer has got nothing to do with it.
There had been an accident of the A47 and everywhere was jammed solid so I turned off early but still found myself sitting in a traffic queue as I drove into town. After creeping along for several hundred yards, I noticed the entrance to an Elgoods pub car park on my right.
Traffic queue, pub lunch. Pub lunch, traffic queue? Decisions decisions.
Suffice to say that I found myself a few minutes later in the Red Lion in North Brink (that's the road name), tucking in to a minty lamb casserole which was excellent.
I then went for a mooch round Wisbech town centre. In and around the market place there were lots of non-Cambridgeshire accents, a snack van in the market offering Lithuanian food and a supermarket offering eastern European goods.
A walk along Nene Quay revealed a great deal of industrial archaeology showing the extent of the port in times past.
As I made my way back to the motor I felt I needed something to sustain me on my journey to my overnight stop so I went back into the Red Lion and had a gorgeous Bread and Butter pudding. It was with some regret I took my leave, otherwise I'd have been there for the rest of the day – and night.
Before leaving the town, I went to take the photo that was the reason for the stop. It was the Railway pub in West Parade overlooking the port. After that I rejoined the A47 to King's Lynn and in to the wilds of the north Norfolk coast on the A149.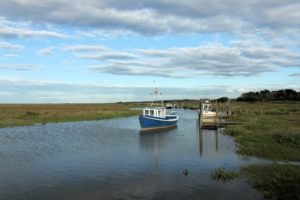 I found a place to stop overnight at Thornham Staithe. It's a nice quiet spot popular with visitors and locals.
On Saturday morning I drove eastwards along the coast road towards Wells-next-the-Sea. Between Brancaster and Brancaster Staithe I came across a survivor from an earlier age of motoring, long before the advent of mobile phones. It's an AA phone box for members to call for help. Both the AA and the RAC provided these boxes for their members use and supplied a key when one became a member. The two clubs had an arrangement by which members of both could use the others boxes.
Wells is another one of these places where the local council does its best to put off visitors by charging for parking and putting limits etc so I obliged them and drove through. I did visit the Wells & Walsingham Light Railway though. The station is just outside the town on the road to Sheringham. It's a 10 1/4 inch gauge railway laid on the former branch line. There are some serious gradients even for a standard gauge loco hence the line uses some very large articulated steam locos (one boiler feeding a set of pistons at each end).
It's a pleasant run through the countryside to Little Walsingham.
After the train ride and a brew I started thinking about lunch. Admiral Lord Nelson was born not far away in Burnham Thorpe and I decided to visit.
On my way there I saw a brown tourist sign "Barley to Beer". "Hmmm", I thought, "that looks interesting" and followed it. I found myself at the end of a long drive at Branthill Farm where they grow barley that goes to make beer. There's a small exhibition of the malting process and a shop that sells bottled beers from local breweries. There, I was faced with one of life's dilemmas – so much to choose from, so little money and time to drink it.
Whilst looking round, a rather fine Triumph TR3 arrived.
As I drove into Burnham Thorpe there was a sign to the memorial hall. Wondering if this was some sort of an exhibition to the village's most famous son I went to have a look. It turned out to be the village hall. I carried on along the road which took me to the church.
Returning to the main road I found the village's pub now named the Lord Nelson. Previously it had been The Plough – until 1798. I thought it only proper to call in and pay respects to one of Britain's heroes. This I did with a bacon and brie toasted open sarny – excellent. The pub is an archive of Nelsonian material, well worth a visit.
I then had a saunter round the village and found it unwrecked. The only obviously new building was the memorial hall. Sadly, the house in which Nelson was born was demolished shortly after his father's death. There is now a plaque in a wall to mark the spot. Interestingly, the church stands slightly beyond the north end of the village whilst the site of the former Rectory where Nelson was born is well beyond the opposite end of the main part.
I then returned to the coast road via Burnham Market which seemed very touristy.
Along the way I turned off to have a look at Morston Quay and a quick drive round Blakeney but they were solid with tourists, so back to the main road. In Cley there was a lot of congestion caused by cars parked on the narrow road.
A quiet cruise to Sheringham where there is a large car park next to the North Norfolk Railway station. I was hoping to stay but they don't allow over night sleeping. Yah Boo Sucks. Whilst there checking for some info, I noticed I was picking up Tescos/BT WIFI service so drove round the corner in to Tescos car park, bought some bits and went online to check emails etc. I then headed off to my night stop in a woodland car park a mile and a half or so outside town.
There were a couple of cars when I arrived and a motor home turned up later but there were no overnight disturbances until the early morning dog walkers arrived. Can you believe that some people are up and out at half-past-six on a bank holiday Sunday morning?
The morning's plan was for a ride on the North Norfolk Railway so after breakfast I went back into town and discovered that even Blue Badge holders (of which I'm one) have to pay to use the main car park by the station. Double yah boo sucks.
All is not lost however, if one drives round to the other side of the station in to Railway Approach, there is a disabled bay and a loading bay. I was tight for time and had to get a move on to board the 09:55 departure for Holt.
Despite leaving so early on a Sunday morning, the train was well loaded although not crowded. The smartly dressed ticket inspector informed me that the loco on the front was British Railways Standard 4MT 2-6-0, 76084.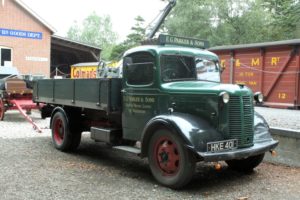 Between BR closing the line and the preservationists taking it over, some inconsiderate bureaucrat decided to build a road on the formation and so Holt station is a mile or so from the town. There is, however, much to see including the Marriott Museum which holds a well presented display of historic railway equipment and material. Displayed outside are a number of restored railway and road vehicles.
On the return trip I stopped off at Weybourne and had a very pleasant chat with the signalman who told me much about the line and its recent history. Weybourne is the only place on the line where two trains can pass each other and while waiting for the train back to Sheringham, a train to Holt arrived hauled by British Railways Standard 9f 92203 Black Prince.
The Jolly Tar restaurant is right next to Sheringham level crossing. It's nothing fancy, just good English food including Sunday roast, with good service.
During the drive towards Sheringham the previous day, I'd passed the Muckleburgh Collection of military hardware and went back to visit. They have a good collection of armoured vehicles and other heavy equipment as well as an excellent display of model ships and aircraft. The location is a WW2 army camp and well worth a visit for anyone with the remotest interest. They demonstrate tanks and other vehicles from time to time which is a must see for any small, or not so small, boy. I passed my first driving test in a Chieftain tank and now they're in museums.
When I came out, the weather was taking a turn for the worse and the afternoon was pressing on, so I decided to act on a suggestion a fellow passenger on the train that morning had offered, a visit to the Bure Valley Railway which runs from Aylsham to Wroxham. The BVR is a 15 inch gauge railway that operates some very large (relative to the track gauge) steam locos and a number of diesel locos.
The station is opposite the Tescos store and again I took advantage of their kindness in providing a wifi internet connection to download some books to my Kindle. I think e-readers are one of the best things to come out of the technological revolution. They allow me to read many books that I just don't have the space for at home plus I can take a number out an about with me in a compact space. The only downside being if I can't recharge the battery. Since they last for several days and can be charged from the car's cigarette lighter socket there's usually no problem.
I found a place to stop overnight on the edge of town and had a pleasant night despite the constant heavy rain. In the morning, I drove back to the station and had a look round. In the loco and carriage maintenance shed there is a cordoned off area where one can see what's going on. At the moment loco No.6 Blickling Hall is part way through its ten yearly rebuild.
By the time I'd had a cup of tea in the refreshment room, taken some rather wet photos and had a chat with the driver it was time to board the train hauled by No.9 Mark Timothy, a 2-6-4 tank engine.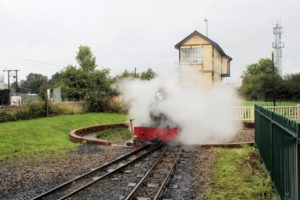 The train got along very smartly considering the appalling weather conditions with speeds reaching some 18 mph according to my GPS. When we arrived at Wroxham there were a number of people waiting to board the train.
The railway is fortunate in having a turntable at each end so locos are turned at each terminus. This allows wear on the running gear to even out and for more efficient operation.
The run back to Aylsham was just as wet although by the time we arrived the rain had eased somewhat.
Railway modellers are well catered for in the souvenir shop. Not only do they stock locos and coaches but scenic materials as well.
The weather forecast seemed to be promising more of the same for the afternoon and the following few days so I decided to head for home. Since it was now lunchtime the question of where to stop arose. Not knowing the area I decided I drive on and see what came along.
As luck would have it the situation was resolved as I drove into the market square. On the corner stands the Black Boy Hotel wherein I enjoyed a huge steak and kidney pudding with lashings of creamed potatoes and a selection of veg followed by a blackberry Bakewell tart. Scrumptious and leaving me not needing to eat for the rest of the day.
I then set off homeward and had a clear, if wet, run along B roads to King's Lynn. Turning on to the A149 there was congestion but it soon cleared and we were soon getting along the A47 at a good rate. Sadly that didn't last and the traffic was square wheeled approaching Wisbech. At that point I cut off on to the B1011 and the A605 to Peterborough and onwards to home.