Continued from page 3, Potsdam and Berlin
A few minutes after leaving my camp site I drove in to a very small village called Stölln and was somewhat taken aback to see a small single-seat aircraft standing at the roadside. The information panel said that it's a Let Z-37A mostly used for crop spraying and, in a two seat configuration, as a trainer.
But the question remained, why was it here? It was still early in the day and there was no where open to get further information. However, internet research revealed that one of aviation's pioneers, Otto Lilienthal, found Stölln to have good conditions for his experiments with gliders. Sadly he died from injuries received in a flying accident in 1896. Not only is Lilienthall and his work commemorated in a museum but the main road is named Otto-Lilienthal-Strasse and the local guest house/bar/restaurant is named for him as "Zum 1. Flieger" (The First Flier). The airfield has a static Ilyushin Il-62 airliner named "Lady Agnes" after Lilienthal's wife which is now used for weddings.
If you wondering how such a large aircraft arrived at such a small remote grass airfield, it was flown in and landed.
Stölln stands in Westhavelland Nature Park which is the largest contiguous wetland in western Central Europe and worth visiting.
The next thing that caught my eye as I drove on was a miniature log carrier and a tractor towed plough at the roadside in Kuhlhausen.
Arriving at a staggered cross roads on the outskirts of Havelberg it wasn't immediately obvious which way I should go. The road opposite, where the sat-nav was directing me and carrying the same road number, looked like a rural back road and the main road I was about to cross ran north/south. As I was deciding, a lorry came out of the road opposite so I took the view that perhaps appearances were being deceptive and carried on.
The road very soon left the built up area and entered woodland where I discovered that appearances were not all deceptive as the road surface changed from tarmac to setts (sometimes confused with cobblestones). Although the road was well maintained, never ever let anyone tell you that driving over setts is a comfortable ride. It isn't.
A short distance further on I was surprised and delighted to see the road end at the edge of the River Elbe with a ferry to carry vehicles across. This is a "reaction ferry" which is secured to cables on floats upstream of the crossing and uses the current to provide movement across the river. The fare was only a couple of Euros or so.
Disembarking from the ferry, the road continued across fields of crops to Werben (Elbe). The day was still young as I arrived in the market place and the only other people I saw were some men I'd followed across on the ferry arriving for work.
Breakfast was now becoming a consideration so rather than pass by Seehausen I turned in to the town. I also realised I needed some cash. Striking lucky I drove straight in to a shopping area along Grosse Brüderstrasse (Big Brothers Road) and found parking, a bank with cash machines in the foyer and the Buchholz bakery with filled rolls, hot chocolate and a couple of tables.
Fortified I continued and a little less than a couple of miles after passing through Aulosen I recrossed the former internal German border. Next stop, Luneburg Barracks.
Thanks to the trusty sat-nav, finding the former barracks on Konrad-Zuse-Allee was a doddle. Most of the site is now used by small businesses and one of the major commercial banks.
As I walked round the site I saw some stable buildings through a fence. The pedestrian gate was locked but I'd seen an open gate on my first scan on arrival so I walked round. Passing through the gate there was a large building obstructing most of the view to my left but the end of the stabling was clearly visible so I took a shot of it. Continuing round the end of the block I saw some people sitting in the sun. They also saw me and one asked if he could help. Fortunately he spoke English and as we closed on each other I saw they were all wearing uniform with "Polizei" all over them. It turned out that this is a police station. The chap concerned was friendly enough but wanted to know who I was and what my purpose in being there was. When I explained he asked for some identity and went to talk to his boss.
He came back and said it was OK to photograph the outside of the buildings. I took a few more shots and started to leave, at which point some more people emerged from the main building and asked the same questions. When I said that their boss had given permission and they'd confirmed it we had a friendly chat about what I was doing and why and I left as a free man.
It was now lunchtime and I wanted to press on to my last location in Herford so I passed on the opportunity to look around Luneberg town. I went round the outskirts, found some lunch in a cafe and headed south.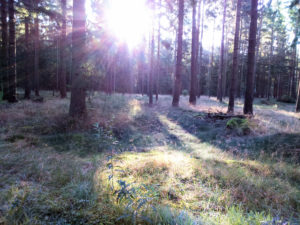 By the time I had enough of driving for the day, I was on the edge of the Army's Soltau training area. This is a large expanse of heath land beloved by generations of soldiers, British and German. I pulled off on to a forest track, found a clearing and made myself comfortable for the night. It didn't have the facilities of a bivvy area (beer tent, cooks etc) when on scheme but there again there were no NCOs wanting jobs doing either. If I'd turned onto a track on the opposite side of the road I'd have been on the area used by the British Army.