From part 2, The Road To Andorra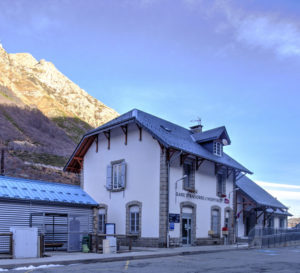 Christmas morning dawned with clear blue skies. I'd noted a railway station at L'Hospitalet-près-l'Andorre and stopped for a look round. It stands on the electrified SNCF Portet-Saint-Simon–Puigcerdà railway and is 1429m (4688 feet) above sea level.
It was a cracking drive over the following eight miles in to Andorra. Lots of twisty turny bits up to the Andorran border and Pas de la Casa. Not well suited to a motor that handles like an oil tanker in a force ten, i.e. my LDV Convoy. If one wishes to avoid the stunning views of the scenery which going through Pas de la Casa and over the top provides, there is the Envalira Tunnel.
The town is built right up to the international border and as one drives in there is a vehicle park on the right hand side. The only other vehicle there was a coach and all the bays were bus length. Perhaps I should have taken this as a hint because as I walked off camera in hand a police car pulled up and the driver asked if it was my motor. When I said it was and that I was only stopping for a few minutes to take photos, he said "OK, you're welcome". A refreshing attitude I thought. There is other parking, but I hadn't noticed it before stopping and, to be honest, it's easier to park a large vehicle in a large vehicle bay.
Fuel, or the lack of it, was now becoming an issue and my sat-nav showed a fuel station just west of the town. All the fuel pumps – about a dozen – are inside a substantial building and it's attended service. Once the tank was full, I offered my card for payment, he said "Cash". I must have had a look of horror on my face because he pointed me at the back wall and a cash machine. Obviously, someone had thought about it and done the sensible thing.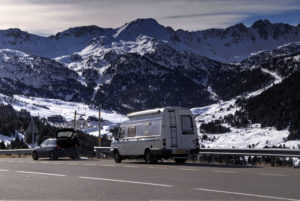 The road continues its switchback climb for another 3 kilometres or so to the highest point at the Port d'Envalira (2408 metres, 7900 feet) passing the Andorran motor racing circuit. It's then a much straighter downhill run for about seventeen kilometres to Andorra la Vella, the capital. One can stay on the main road and pass straight through to the Spanish border but having come to look around I turned off into the city streets many of which are quite narrow.
The first thing that struck me was that most of the buildings are quite tall. There is a great deal of parking, both on and off street much of which was occupied even on Christmas Day. Although most of the shops and other places were closed I did find the Restaurant Beluga in Avenue del Consell de la Terra was open. The grilled rabbit was excellent. After lunch, I had a walk round and took some photos before continuing on towards Spain.
Since returning home and looking at maps, I've discovered that what appears on the ground to be Andorra city is split into two parishes, Andorra la Vella and Escaldes-Engordany. I was in the latter.
Continued in Part 4, To The Rock