France and Spain 2016, 2; The Road To Andorra
From the overnight stop on the aires at Arromanches-les-Bains I headed south to Le Mans.
Somewhere along the way I found myself in a McDonalds (please don't ask why, I'm still not sure myself). It was somehow reassuring to discover that, even in a country noted for its cuisine, McDonalds sees fit to maintain its standards.
I found an aires in Quai Amiral Lalande on the bank of the River Sarthe opposite the city centre. The entrance is on a left hand bend and not readily noticeable in the dark. There are water and waste disposal facilities.
Being in Le Mans seemed like too good an opportunity to do one of the things the motor racing driver in all of us wants to do – drive along the Mulsanne Straight so in the morning I headed for the racing circuit. Apart from the shop everything was closed, including the cafe.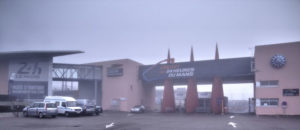 The Mulsanne Straight is on the opposite side of the racing circuit from the main entrance. It would have been nice to be able to take the short route, but it's understandable that they don't want normal everyday vehicles sullying their pristine racing surface so one has to take a slight circuitous route through an industrial/commercial area to reach the straight., more formally known as Rue Ligne Droite des Hunaudières, the D338.
Other traffic, the roundabouts along it for normal daily use and a speed limit mean one can't go hell for leather, not that there's much "leather" in a LDV Convoy.
I had decided to avoid toll roads, there are good roads parallel to most of them and I continued south to join the A28 and then the N10 at Tours before arriving at Roullet-Saint-Estèphe aires for an overnight stop.
Some while before dawn the following morning I woke, couldn't get back to sleep so decided to press on, the route took me south-east towards Périgueux. It was still dark with fog and rain and some of the country roads had no markings. It didn't take long for that particular novelty to wear off. Somewhere along the way I checked and I discovered that I'd been a bit too restrictive in setting the sat-nav to avoid all motorways, rather than just toll roads (péage). so I reset it to include motorways and by lunchtime I was in Cahors.
One of my water taps wasn't working and a search for "camping cars" in Google Maps brought up sarl Run Caravaning. A very helpful lady gave me an idea of what was wrong but being Christmas Eve didn't have anyone available to fix it. It turned out to be a broken micro-switch; more inconvenient than important.
Across the road is a Carrefour supermarket so I went in search of lunch and other supplies. For lunch, I found a rather nice pastry filled with spinach leaves and cheese. Yummy.
Outside, on the south end of the building are toilets that appear to be accessible twenty-four hours a day.
Pressing on, I passed Toulouse before turning south onto the A66 towards Andorra. Unfortunately, I failed to check early enough for overnight stopping places and passed a couple of aires one at les Cabannes and another at Ax-les-Thermes. Some lay bys did not look too inviting as there was no way to ensure that someone pulling in behind me would not hit my vehicle so I kept going.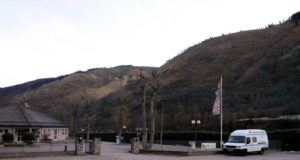 Eventually I turned off the main road into Mérens-les-Vals and drove through looking for somewhere to stop. When the road became single track I did begin to have second thoughts. A spot of luck then came my way when I spotted a space outside a commercial campsite. It appeared to be a pull in and the campsite's perimeter lighting provided visibility.