France and Spain 2016, 4; To The Rock
From, Andorra
Despite driving through the "Nothing to Declare" channel at the Spanish customs post, it was obviously a quiet day and the Guardia Civil invited me to stop for a chat. His first question was whether or not I spoke Spanish, but this was my first ever visit so no, I don't.
Descending through the Spanish Pyrenees the road engineering is pretty impressive with a wide road and numerous tunnels. All the way up and over the Pyrenees it had been glorious sunshine. After passing through a quick succession of tunnels just north of Oliana the weather changed to being heavily overcast.
Approaching Vilanova de la Barca as darkness was falling I saw a sign for services and turned off into the town but services I couldn't find. I did find a plot of land where I parked for the night.
The following morning as I skirted the edge of Madrid I was beginning to need fuel again (I'd covered four hundred miles from Pas de la Casa) so pulled off into Los Angeles where I found a fuel station. My water supply was also getting low so I looked for a place to refill. A possible location came up in Aranjuez. When I got to it, it was no more than a plot of land adjacent to a children's playground.
Nearby I spotted a sign for a camp site, Camping Internacional Aranjuez. I called at the reception desk and asked if I could fill my water tank. The lady on the reception desk asked her colleague, who appeared to be a supervisor, who refused my request even when I offered to pay for it. The lady I was speaking with did seem embarrassed at delivering her colleague's refusal.
The nearest place I could find which appeared suitable was at San Clemente, nearly a hundred miles further on. It is the bus station, on the edge or the town, with a water and waste disposal point. It's in Carretera Cementerio, San Clemente at 39.397166, -2.435696.
After a good night's sleep I left San Clemente and hit the motorway towards Granada. From there the road took me past Torremolinos (where my grandparents had been on holiday in the late 1950s) and Malaga to an abandoned section of road near Punta de Europa.
The Rock of Gibraltar, some twelve miles away, can be seen from here at the far end of the Costa del Sol.
The Rock of Gibraltar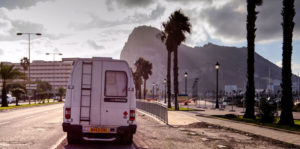 A decidedly dull and overcast sky with a stiff easterly wind greeted me when I got moving this morning but it was a good run to La Linea to cross into Gibraltar. There was a long queue of motorists waiting to do the same but I understand this is more usual than not.
The first thing to do was to find somewhere to park to ascend the Rock. No, not with rope and tackle but by cable car. The lower end in Botanic Gardens Car Park in Red Sands Road. The journey takes about eight minutes.
It's best not to take any food, or anything that smells of food, with you as the apes are quite fearless and will grab it even if it's in your bag. Although not at the highest point of the Rock there are good views to be had of the town, the harbour and the surrounding seas. One noticeable absence during my visit was any ships of the "Grey Funnel Line", i.e. the Royal Navy. There were a fair number of merchant ships both in the harbour and offshore in the bay, including some very large tankers lying to the east of the Rock.
I'd identified a car park close to Main Street which I spent some while trying to find, only to complete a couple of laps of the circuit. Most of the roads one can drive along are narrow and traffic is one way. Although a British dependency, they drive on the right hand side of the road where there is two way traffic.
Continued in Part Five, S.W. Spain and home